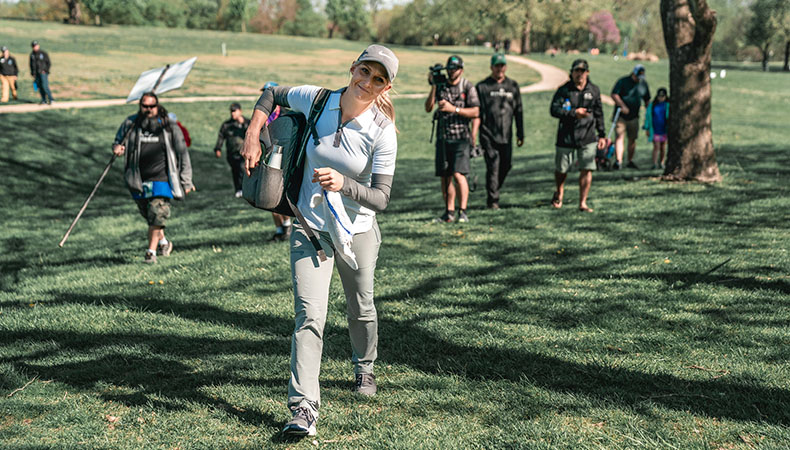 EMPORIA, Kansas — Sometimes as a disc golfer, you can live a charmed life: Maybe that pesky tree gives you a generous kick up the fairway, or that putt you should have missed just somehow manages to stick to the last available bit of chain.
Catrina Allen lived her own version of fortune Thursday at the Dynamic Discs Glass Blown Open, as her circle 1 putting success dropped 51 percent from her round one performance but her lead still grew by 133 percent.
Allen tossed a 1-under par 63 during this PDGA National Tour stop's second round, bringing her 36-hole total at the Emporia Country Club to a 5-under par 123. She holds a seven-throw lead over Jessica Weese, whose 3-over showing tipped her total to the wrong side of par with a 2-over total. Paige Pierce moved up three slots in the standings and sits in third place at 4-over par, while Jennifer Allen and Rebecca Cox are tied for fourth with 6-over par 134 totals.
Allen's 989-rated performance means she is averaging 996-rated golf through the GBO's first two rounds as she aims to win here for the first time since 2014. And even though she often struggled to put plastic to metal — save a 40-footer for birdie on the par-4 2nd — she never got down on herself.
"I never thought I was gonna miss — they just didn't feel good, if that makes sense," Allen said. "I never felt not confident or like was thinking, Oh gosh, don't miss or anything…Just one of those days where you're trying an everything feels right and it's not going in."
The Minnesota pro was 3-down through seven holes before the par-5 8th bit hard. With wind beginning to pick up she strayed OB off the tee, but was in prime position to save par before doinking a 20-footer off the front of the cage. She again missed low on 9 for a second straight bogey.
Another errant shot proved to be slightly more dramatic. Allen lofted a high hyzer on the 399-foot 11th that bent with the curve of the OB cart path and landed out. Unsure of where she crossed over the OB line, she explained to her group that she thought the shot should be marked roughly 25 feet from the pin. A heated discussion ensued, with Weese disputing Allen's spot and Jennifer Allen and Cox ultimately siding with Allen. Unshaken by the confrontation, Allen connected for the par save, then followed up with a near park-job on hole 12 for another birdie.
"In the past that would make me upset and I would kinda be over it, like 'Oh, I shouldn't have to be dealing with someone saying to these things to me,' or like — we're just trying to a make a call and why does it have to be so personal?" Allen said of the exchange. "It's just about the call. And so I just took a couple extra deep breaths and was like, 'Let it go. You decide if you're gonna throw upset or you decide if you're gonna throw, so just focus on your shot and execute it.'"
[embedded content]
That level-headedness will serve her well through the rest of the week, especially as she has a hungry Pierce waiting to chase her down. The four-time GBO Champion once again struggled to keep the disc between the lines, carding another six OB strokes to bring her total penalty strokes this week to 12. The inaccuracy led to a run of three consecutive bogies in the middle of the course and a double to close the round.
"Honestly, it was a lot of mental errors, just thinking about, OK, don't wanna go OB left and then I'd go OB right," Pierce explained. "Overcompensating, trying to stay safe but putting the negative thought in my head kind of then led to that happening. Toward the end of the round instead of thinking about where I didn't want to land I started thinking about where do I want my disc to come to rest, and I think that shed some clarity on what I was doing and a little bit more confidence and accuracy."
She'll need to keep those traits with her if she's going to come back from a nine-shot deficit, one she already planned to attack on Friday's moving day round.
"I have a lot of work to do, and Cat's playing really well, so I'm gonna need birdies," Pierce said. "It's not just get some pars out here. I'm gonna need birdies."
Though she's been a bit inconsistent through the first two rounds, Weese has been able to hold onto second for two reasons: putting, and taking the putter out of the equation. She leads the field in circle 1 putting with a 79 percent success rate, and is also tops in parked shots at 14 percent.
Quote of the Day
Pierce, on her plan to commit more to her shots: "I like throwing hard!"
Stat of the Day
Hole 9 features a brand new layout this year at the Country Club, as the tee pad was moved to the right side woods along Interstate 35. The goal was to make the former hole 10 more difficult, and we'll call it mission accomplished: It played 1.42 strokes over par as the most daunting in the women's field.
What's Next
The Open Women's lead card tees off at 9 a.m. Central. Tune in on SmashboxxTV.
[embedded content]