The first Elite Series stop on the West Coast swing.

In an interview on The Upshot podcast, OTB Open co-TD Sean Jack said he wants the tournament to become the PGA Tour's Waste Management Phoenix Open of disc golf.
The Phoenix Open is widely celebrated (and criticized) for being a fun, rowdy tournament, a real break from the stuffy atmosphere that can sometimes accompany golf. Just look at this scene from this year's tournament after Sam Ryder hit a hole-in-one:
The OTB Open has doubled down on their "party peninsula," complete with a bar and grill and viewing platform, to give spectators a festive locale to watch some disc golf. There are also bleachers going up around hole 18 for fans looking to watch some final round drama. And it is fitting that this will be the first event to feature a post-round live music show, a part of the Disc Golf Pro Tour's new concert series: The Main Squeeze will perform following an opening DJ set from Kevin Jones (yes, that Kevin Jones).
Oh, should we discuss the actual disc golf? When this tournament was at Gleneagles DGC in San Francisco, it was a grinder of an event, calling for a lot of full power shots and some big elevation changes. The move to Stockton and Swenson Park means less hills but even more distance. This is the longest course on tour so far this season, and it's a few hundred feet longer than it was last year, when it was record-setting on tour.
Although the tournament is set on a golf course, the design mostly avoids the use of the golf fairways, instead cutting through the trees and in the margins to create a course that feels more disc golf-y than a typical golf course layout. Power arms will still have a big advantage, though. Let's break it down.
Past Winners
| Year | Tier | MPO | FPO |
| --- | --- | --- | --- |
| 2021 – OTB Open | ES | Eagle McMahon | Paige Pierce |
| 2020 – SFO | DGPT | Canceled | Canceled |
| 2019 – SFO | DGPT | Ricky Wysocki | Catrina Allen |
| 2018 – SFO | DGPT | Paul McBeth | Sarah Hokom |
Five Things We'll Be Watching
1. With Eagle McMahon out of the field and unable to defend his title, who's the favorite in MPO? James Conrad, Anthony Barela, Calvin Heimburg, and Ricky Wysocki all shot extremely well here in 2021. Heimburg seems like the odds-on pick to win, given that his low line drive style should be effective on a course with lots of low ceilings. But what about Ricky's navigation of the wind at the Dynamic Discs Open? Maybe he's the favorite given the windy conditions that are likely to be a factor again this weekend. Don't be surprised to see those two battling it out at the top late in the final round.
2. How much of a factor will rollers be this year? Players have been practicing roller shots all week as a way to bite off more distance than is possible with an air shot with low-hanging branches lurking off the tee on many holes. They were very common on the 2021 layout, but this year's course has more than half new holes. If you see a lot of rollers in today's first round with the wind up, then expect it to be an even bigger part of the gameplan over the weekend.
3. Who's going to get the final couple of spots at the Match Play Championship? The OTB Open is the final tournament before the points cutoff — the top 16 players in each division (with DGPT Elite Series winners getting autobids) will qualify to compete at next month's MPC. Last year, there were $10,000 payouts for the champions and everybody makes some money, so it's a lucrative event to get a shot at. Here's a look at where things stand near the bubble. A top 5 finish from players outside looking in could be enough to vault them into the event. Of particular note, Rebecca Cox is not registered this weekend, so she is highly likely to lose her spot.


4. After Ella Hansen's strong performance at last weekend's Masters Cup, can she battle for her first tour win at OTB? She said on The Upshot that she is outdriving Paige Pierce lately, and with the course stretching to nearly 10,000 feet, it seems Hansen will be well positioned to succeed. Sean Jack said that the course has been designed for FPO players "three years from now," suggesting that the raw distance required could leave a lot of players unable to birdie a number of holes. That shouldn't be much of a problem for One Throw Ella.
5. Water holes! This Swenson Park has more water than almost any course on tour, and many of the holes require long carries, or even multiple water shots. It's an exciting feature that adds both beauty and a natural out-of-bounds to a number of the holes in the middle and back half of the course. Will players be conservative, afraid of losing discs?
The Course
Swenson Park: MPO – par 66, 11,727 feet; FPO – par 68, 9,678 feet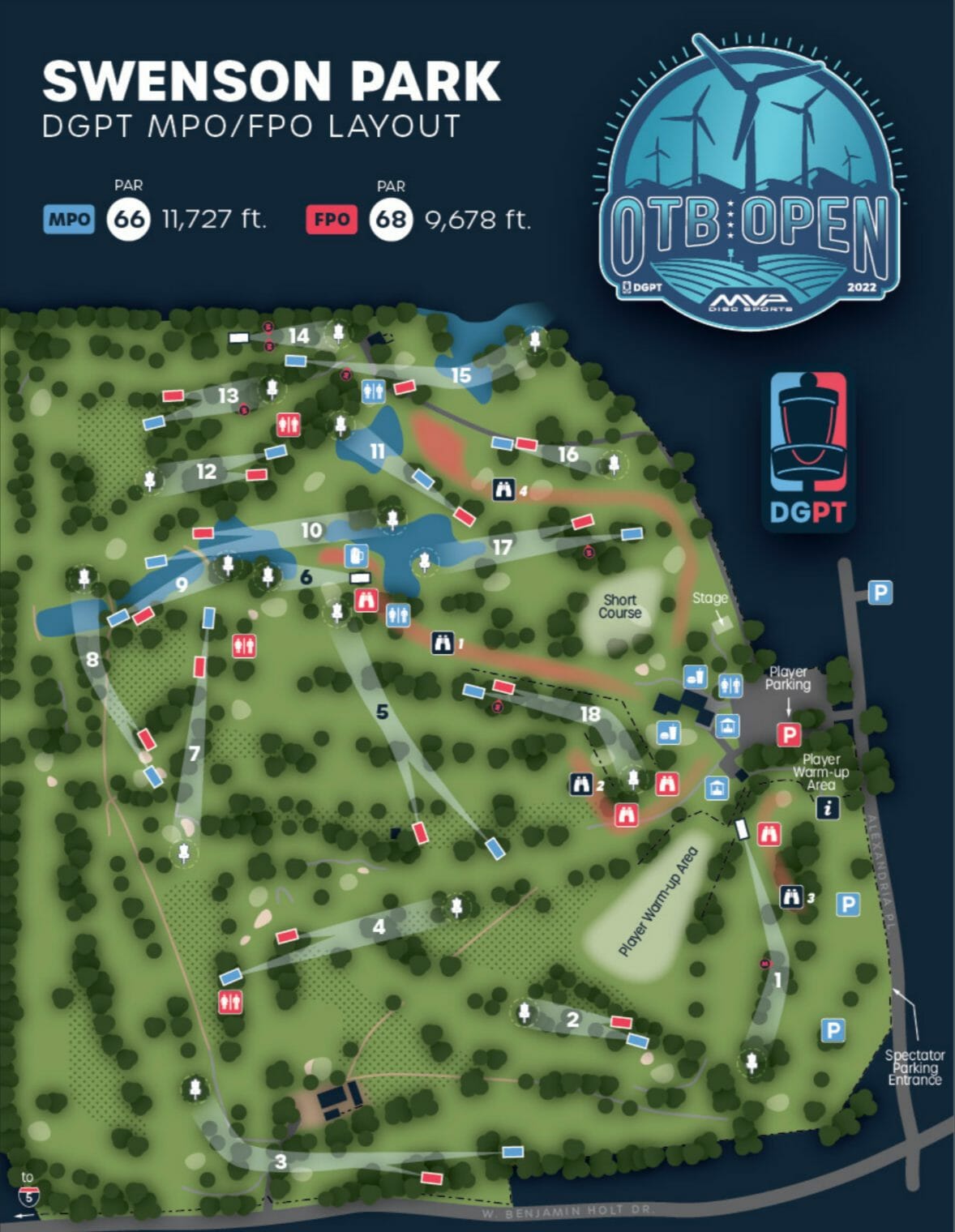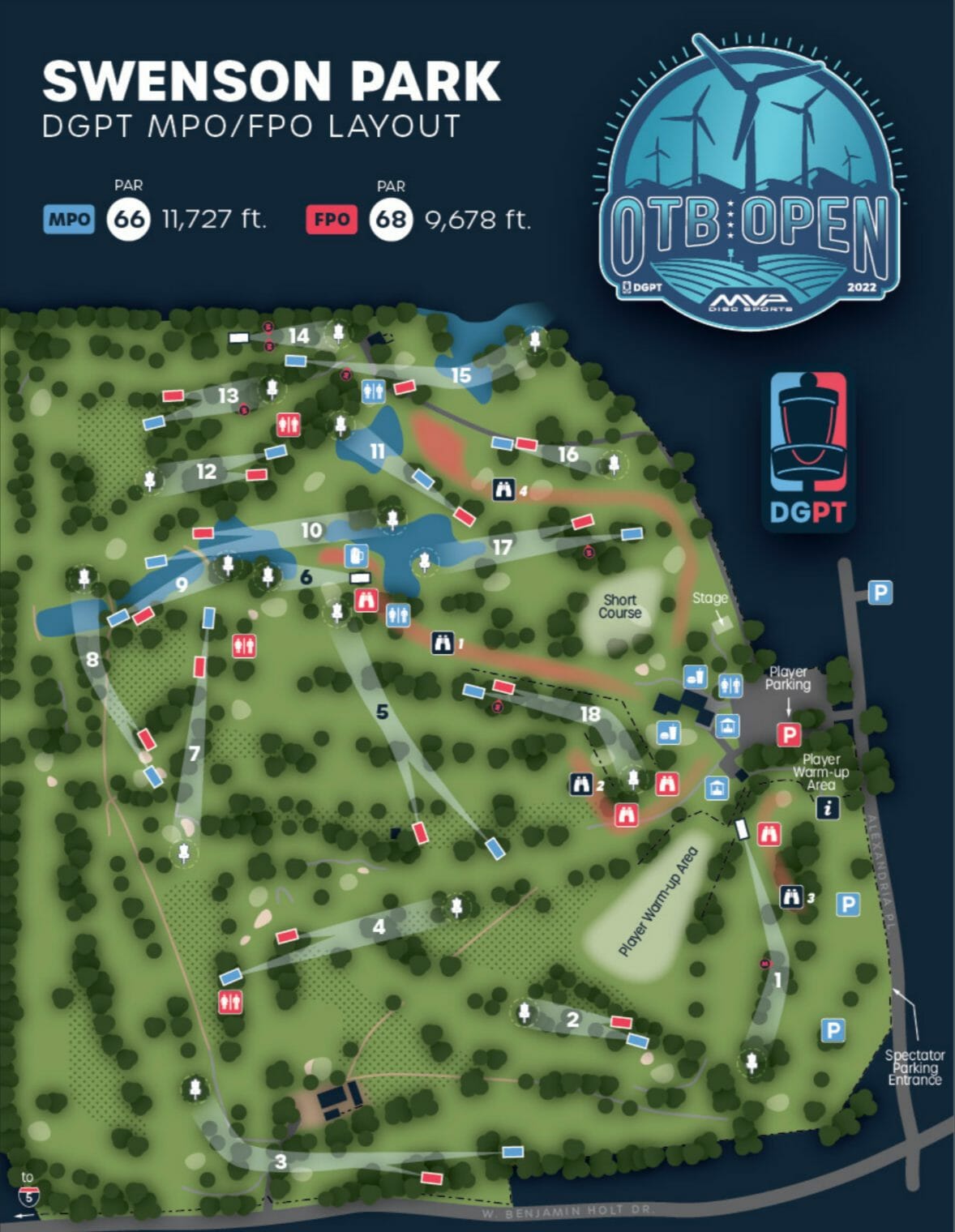 One of the longest courses on tour is now even longer. After the Swenson Park property agreed to open up its entire facility to the disc golf course for the weekend, course designer Leonard Muise came back and rebuilt more than half of the course, only maintaining the water holes at the top of the park. Otherwise, it's a mostly new track, though the challenges — low ceilings, tons of distance — remain similar.
The course was rethought from a spectator perspective after chokepoints caused issues last season and is quite obviously more spread out. The "party peninsula" (represented by the blue beer mug icon in the map above) will continue to be a prime location for watching the action while enjoying food and drinks. Spectating areas are also being built greenside at hole 18, which looks familiar: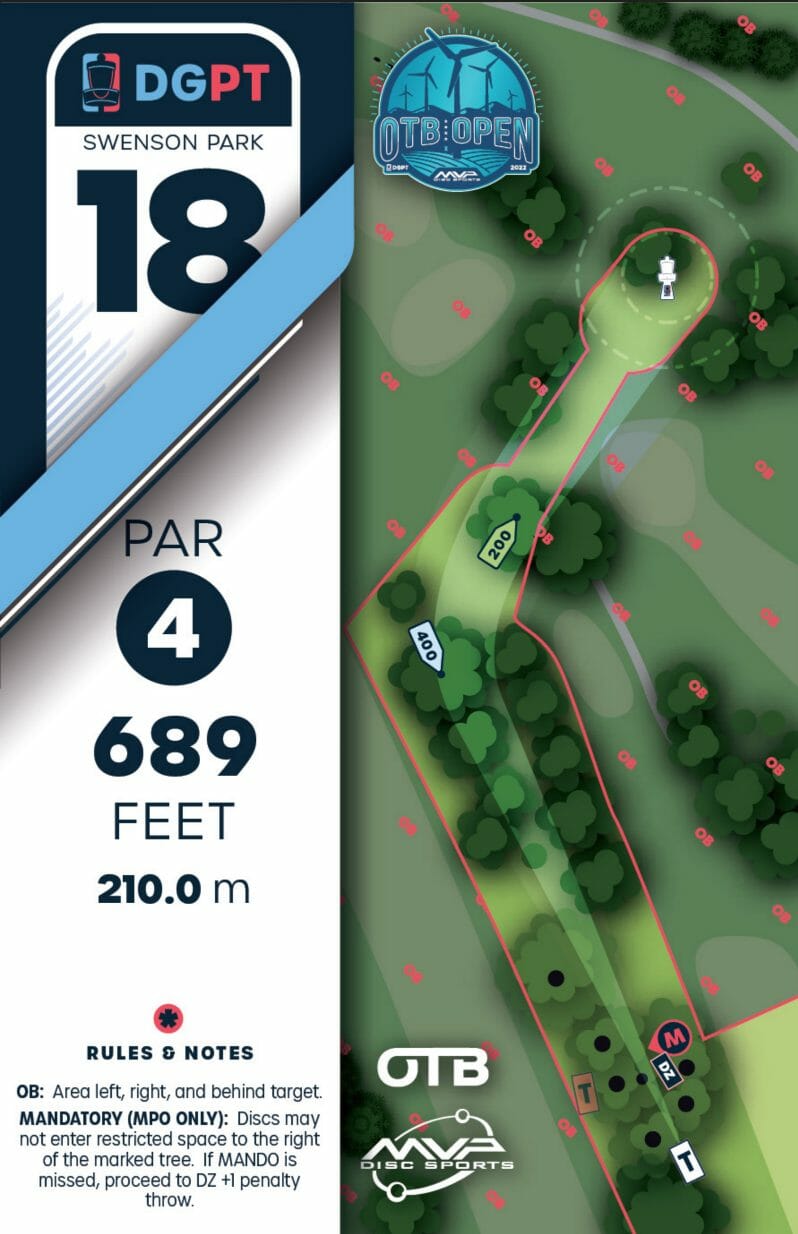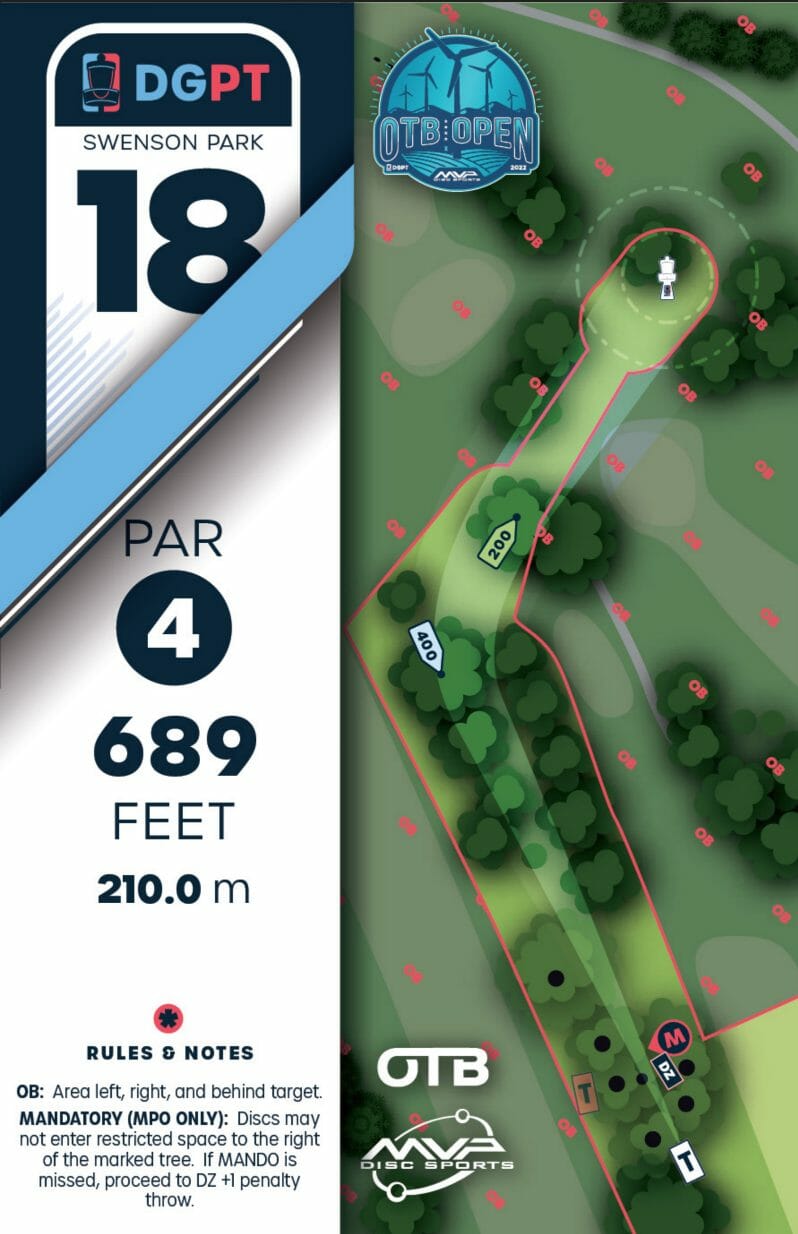 The hole was explicitly designed to mirror The Fort's hole 18 that delivered unbelievable drama at the 2021 PDGA World Championships in Utah.
The course is grueling and should again test players' ability to throw rollers under the low canopies. Wind will be a factor.
Here is the 2022 OTB Open caddie book.
Grip6 Pick6 Lock of the Week
You have to make sure you include Catrina Allen in your picks this week. She hasn't missed the top 5 this season and finished second at OTB Open last year, just one stroke behind Paige Pierce. Her game is very sharp right now, she's an elite roller thrower, and she has plenty of distance to compete with the biggest arms.
Extended Forecast
Get ready for hot and windy weather.
Friday: Sunny. High of 85 degrees. Winds from 15-25 mph, easing up for later tee times.

Saturday: Hot and sunny, high of 90. Winds from 10-15 mph. More wind in the afternoon for MPO tee times.

Sunday: Mostly sunny, high of 92. Winds around 10-20 mph. Windier in the afternoon.
How To Follow
UDisc Live will have livescoring available all weekend. For video coverage, see our How To Watch post.
Read on for PrizePicks Lines & Best Bets…
Bonus Content for 2022 OTB Open Preview: Long Holes, Cold Beer is only available to Ultiworld Subscribers
Already have a subscription? Log in
Whether you visit Ultiworld for our reporting, our podcasts, or our video coverage, you can help us continue to provide high quality content with a subscription. By becoming a subscriber, not only do you receive benefits like bonus content and full article RSS feeds, you also help fund all of Ultiworld's coverage in general. We appreciate your support!