Record-setting purse!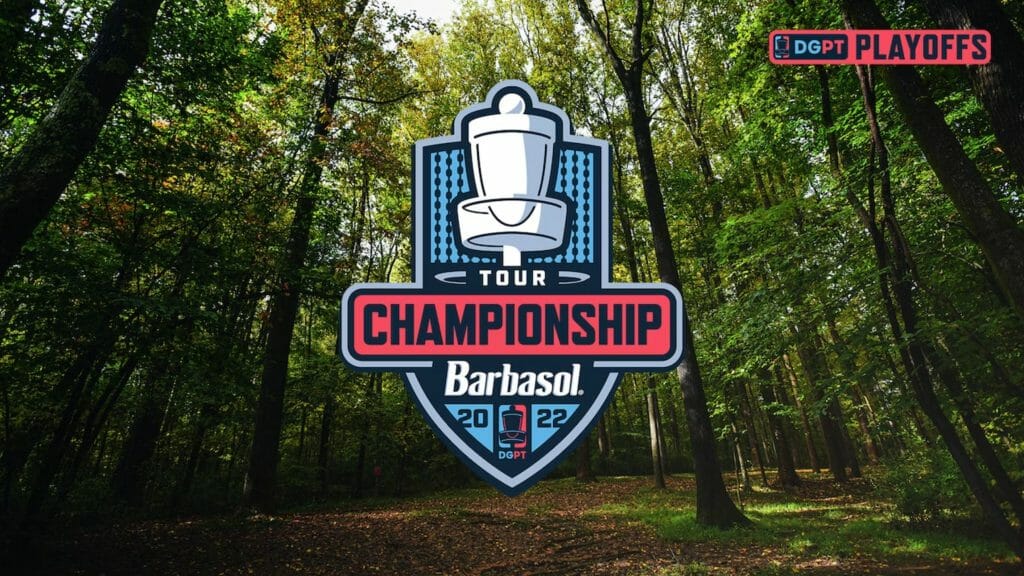 For a third consecutive year, the Disc Golf Pro Tour will be awarding a record payout to their MPO and FPO tour champions. $35,000 will be going to the winners, and $302,000 in total will be dispersed amongst the 16 FPO and 32 MPO players who qualify for the event. Five of those players (Ella Hansen, Kat Mertsch, Maria Oliva, Ezra Aderhold, and Brodie Smith) are guaranteed the highest payout of their career simply by showing up to the tournament.
If you are unfamiliar with the tour championship format, players are seeded based on the points they earned throughout the season, with the top players earning a bye to the quarterfinal or semifinal rounds. The top four scores from each round will advance to the following round, with tiebreakers being decided by the player's seed, making regular season results very important. Each day, scores reset.
A tie at the end of the final round will result in a standard playoff until a winner is declared. What's new for this season is a play-in round taking place on Wednesday, featuring six FPO and six MPO players. The top two finishers from each division will earn a spot in the Tour Championship.
Last year, Nathan Queen ran the table and became the third MPO player in five years to win the tour championship all the way from the opening round. Queen was truly phenomenal on the Hornets Nest course, shooting the hot round three out of four days despite being the 28th seed in the division. As the 3rd seed in FPO, Missy Gannon had a bye to the semifinal round. She tied the hot round and advanced to the finals, where she won by a margin of four strokes and earned the moniker "Big Money Missy" after cashing a $30,000 check.
Past DGPT Championship Winners
| | Open | Open Women |
| --- | --- | --- |
| 2021 | Nathan Queen | Missy Gannon |
| 2020 | Kevin Jones | Hailey King |
| 2019 | Chris Dickerson | Catrina Allen |
| 2018 | Chris Dickerson | Sarah Hokom |
| 2017 | Ricky Wysocki | Paige Pierce |
| 2016 | Paul McBeth | Catrina Allen |
Three Things We'll Be Watching
History tells us there is a very good chance that an MPO player seeded 17-32 will make the finals on Sunday — and potentially even win the event. In the five years since the pro tour started using a four round MPO championship format, one player from the opening round has made the finals in four of those years. Chris Dickerson did so twice, going on to win the event, as did Nathan Queen last year. There is certainly an advantage to getting an early round or two under your belt: players like Paul McBeth have admitted it can be difficult to start the tournament in the semifinal round. While no FPO winners have come from the quarterfinal round, this could very well be the year that it happens. Three FPO Elite Series winners from this season will start their week in the quarterfinal round, and players like Henna Blomroos and Hailey King could join the party if they advance from the play-in round on Wednesday.
There is certainly an advantage to being a higher seed, and with how competitive the fields have been this season that may prove true this year more than ever. Each round consists of just 18 holes, so tiebreakers are decided by which player has the highest seed. Last year Chris Clemons, Raven Newsom, and Juliana Korver all fell victim to their seeding, and did not advance despite shooting the same score as a higher seeded player. Expect tiebreakers to decide the fate of even more players this time around, we might even see lower seeds play the course more aggressively as a result.
There are a few players who could make one last push for Player of the Year with a win this week. While Kristin Tattar is the clear favorite in the FPO division, Paige Pierce could make a case for herself by winning the tour championship. Tattar has undeniably been more consistent and has more wins, but with twice as many majors, Pierce could have an argument by adding the tour championship to her 2022 resume. Likewise, Paul McBeth and Simon Lizotte would bolster their case against Ricky Wysocki with a win this week. McBeth has just two wins this season, but the World Championship and Disc Golf Pro Tour Championship might be enough to put him over the edge. Simon Lizotte would likely be the odds-on favorite if he can add a 5th win to his season in Charlotte.
The Course: Nevin Park
Established in 2009, Nevin Park was one of the courses used during the 2012 Pro World Championships and is often referred to as a sister course to Hornets Nest in Charlotte. Due to a large infrastructure project at Hornets Nest, the DGPT was forced to find a new venue for this year's tour finale. Charlotte locals should certainly be familiar with Nevin, but the densely wooded track has received some upgrades in recent weeks. In a press release last month, DGPT's CEO and Tour Director Jeff Spring mentioned "the addition of six new tees, significant fairway clearing and development, as well as some new hole changes are underway, led by Mark Huether of the Charlotte Disc Golf Club." Andrew Presnell, who is ranked 31st in the MPO standings, wrote on Twitter that Nevin has tighter lines than Northwood Black but noted it is not as long as the famed Ledgestone course. He also added that the course has "a lot of left to right shaping shots."
MPO: 9,002 foot Par 63
FPO: 8,471 foot Par 66
Here is the Nevin Park caddie book.
Extended Forecast
The weekend weather looks great, though there are rain and thunderstorms in the forecast for the play-in round Wednesday and MPO quarterfinal round on Thursday.
Wednesday: Showers early with scattered thunderstorms later in the day, highs in the lower 70s. Chance of rain 50%.
Thursday: Scattered thunderstorms in the morning with highs in the mid 70s, chance of rain 60%
Friday: Sunny with highs in the upper 60s
Saturday: Sunny with highs in the mid 70s
Sunday: Partly cloudy with highs in the upper 70s
How To Watch
Ultiworld Disc Golf Subscribers, read on for PrizePicks Lines & Best Bets…
Bonus Content for 2022 DGPT Championship Preview: A Dash for Cash is only available to Ultiworld Subscribers
Already have a subscription? Log in
Whether you visit Ultiworld for our reporting, our podcasts, or our video coverage, you can help us continue to provide high quality content with a subscription. By becoming a subscriber, not only do you receive benefits like bonus content and full article RSS feeds, you also help fund all of Ultiworld's coverage in general. We appreciate your support!